At Commerce7 we know email marketing is a key component of your DTC business. Using email to communicate with your customers creates a channel to promote your products and an opportunity to engage with your customers. When this is done right, your email marketing efforts should be driving between 20-30% of your total ecommerce revenue. 
The Campaigns feature on Commerce7 enables you to easily create great looking marketing campaigns that drive revenue. In 2021, the average revenue generated per campaign sent through Commerce7 was $1187.09.
What are Commerce7 Campaigns? 
We're glad you asked! Commerce7 Campaigns is an email marketing tool built specifically to help you proactively engage with your customers and generate more revenue.. With Commerce7 campaigns you can create and send emails to your subscribers and track the campaigns performance including sends, opens, clicks, bounces, and revenue generated. The user-friendly tool allows wineries to engage their subscribers with new content and promotions all while fostering leads to help grow their business. Commerce7 campaigns offer pre-built templates available in the Commerce7 tenant under Marketing > Campaigns where you can implement customizations to align with your branding and display accurate content with minimal effort. 
Key Features 
Pre-Built Templates 
There are four pre-built email templates and one blank template to choose from when setting up a campaign.  This ensures your emails are clean, clear and consistent with your brand. The templates will automatically pull your logo, fonts, colours and contact information from the Settings > General section of Commerce7, helping to create a coherent, branded look and feel to your emails. 
All templates Include editing functionality such as adding or removing content blocks, editing text, adding coupons and adding products. 
Upfront Product Pricing & Discounts 
When creating a campaign, a coupon block can be edited or added to bring in a pre-created coupon from your store. This will allow you to showcase a product discount to all customers that qualify. 
Segmentation & Scheduling
Commerce7 Campaigns allow you to send emails to specific Customer Tags you have set up in Commerce7. This means you can segment your email recipient list to serve relevant content to relevant users which will increase engagement and drive conversions. 
As for scheduling, you can either send a campaign right away or schedule it to be sent at a future date and time. Scheduling your emails is a great way to maintain consistency which keeps your customers engaged with your brand. 
Batch Sending 
Commerce7 Campaigns sends emails in progressive batches to ensure all emails are trusted and will not end up in your recipients spam folder or bounce. As you send out more and more campaigns and emails are flagged as trusted, the batches will increase in size and send at a faster rate.
Campaign Performance Tracking 
Simply put, if you don't track your email campaign results, you are wasting valuable data. Consistently monitoring your campaign results and interpreting them in a meaningful way can help you determine your best performing content and create more engaging campaigns. 
With Commerce7 Campaigns, you have the ability to track the following KPI's:
Total sends
Opens
Clicks
Revenue
Spam
Unsubscribes
Bounces
Tracking and statistics can be reviewed under each campaign after it's executed, and you have the ability to export this data as well. 
Benefits 
There are many different email platforms available today including popular options like MailChimp and Klaviyo to name a few, but if you're wearing many different hats at the winery, it may be intimidating to research and learn a whole new system. The Commerce7 campaigns feature was designed with ease of use and simplicity in mind, giving your winery the tools needed to easily send out branded emails directly from your Commerce7 tenant. This means you can save time learning a new system and can keep your operations in one central location inside Commerce7. 
How to use Commerce7 Email Campaigns
In the admin under Marketing, you can click into Campaigns which will bring you to the Commerce7 Campaigns tool. The first thing you will see on this page are any drafted or executed campaigns. For all executed campaigns, you can see important KPI's including Sends, Opens, Clicks and Bounces. This is also where you can add a new campaign by clicking the Add Campaign button on the top right hand side of the screen. 

After clicking the Add Campaign button, you can select from four different pre-built email templates, or create a new email template from scratch. To get started, you'll want to click on the template that best fits your needs. In this example, I am going to use the product launch template. 

Once you click your template, a new page will open up and it will have pre-populated information. On this page you are able to change the internal facing title, which tag (customer segment) you would like to send this campaign to, who the campaign is being sent from, as well as the subject line and the preview text.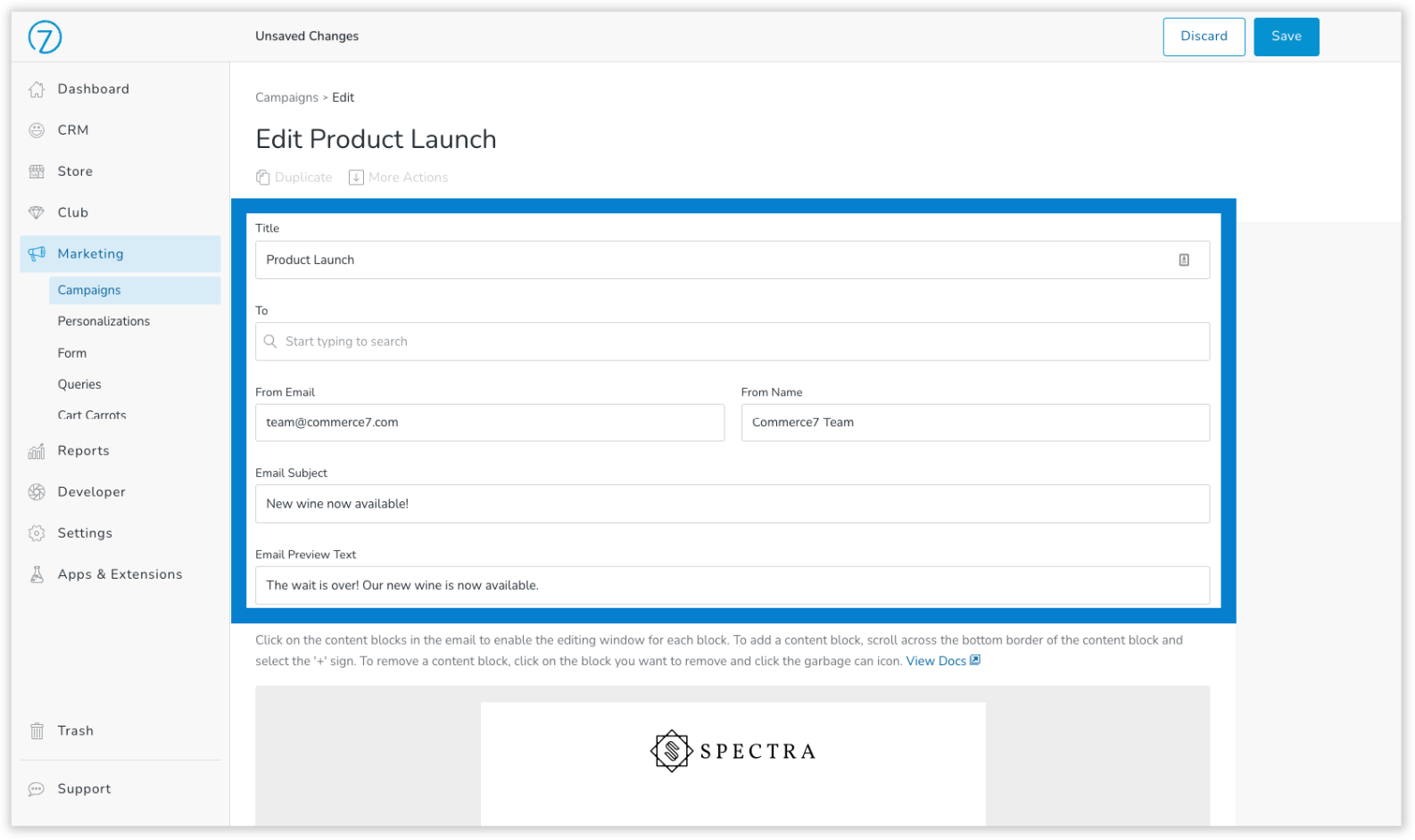 Below this section, you will see the email template that is being sent out. The campaign tool utilizes a block style editor. You can add more blocks as well as remove blocks or edit the default blocks to make your email look exactly how you planned. To edit the existing blocks you need to click on the content blocks in the email to enable the editing window which will appear on the right hand side: 
To add a content block, scroll across the bottom border of the content block and select the '+' sign. To remove a content block, click on the block you want to remove and click the garbage can icon:
The blocks included in the product launch email template for example are the header, title, product, call to action, and footer. 
Most blocks (with a few exceptions) will give you the option to change the alignment, edit the content, select the text size and choose an alternative background colour among a few other unique editing options such as hiding certain attributes, product selection and the ability to add a coupon in the product block so your email can include all of the content you want, in the layout that you want.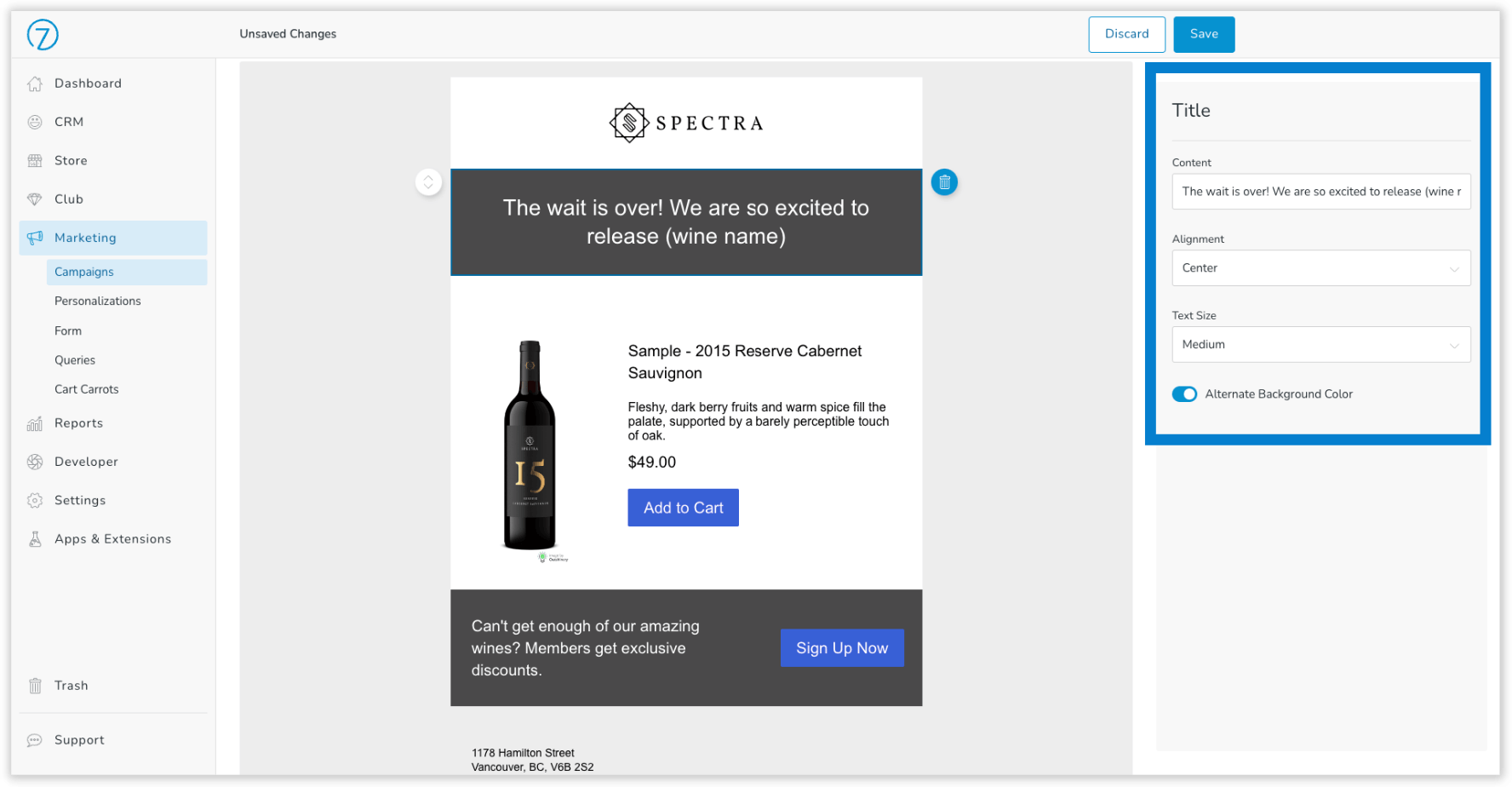 Once the campaign is all set up, you can preview your email by clicking review.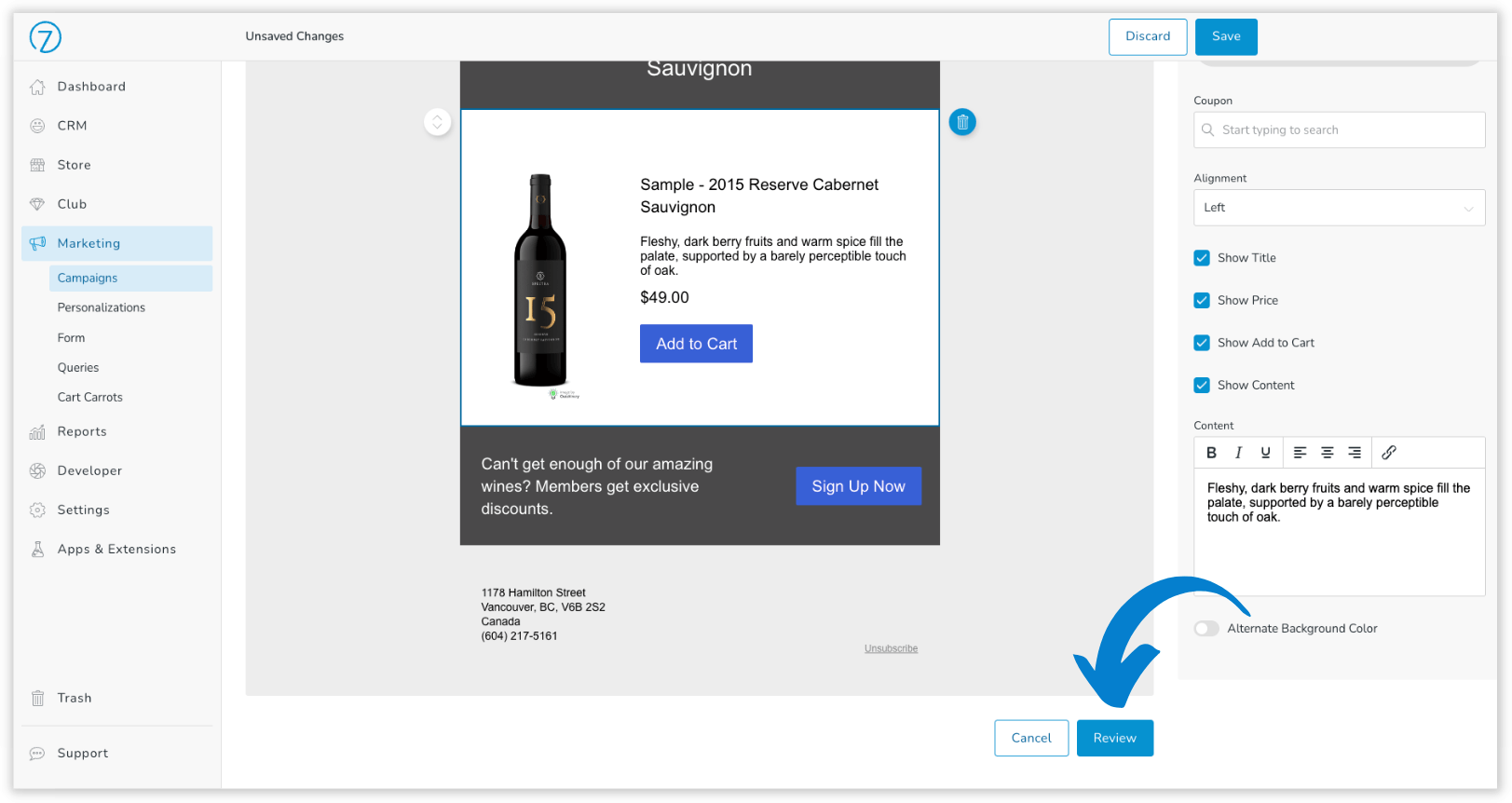 You can see who this campaign is going out to, from email, from name, subject and preview text. You will also be able to open a preview of what the email will look like in its entirety to make sure you're happy with it before it is sent out: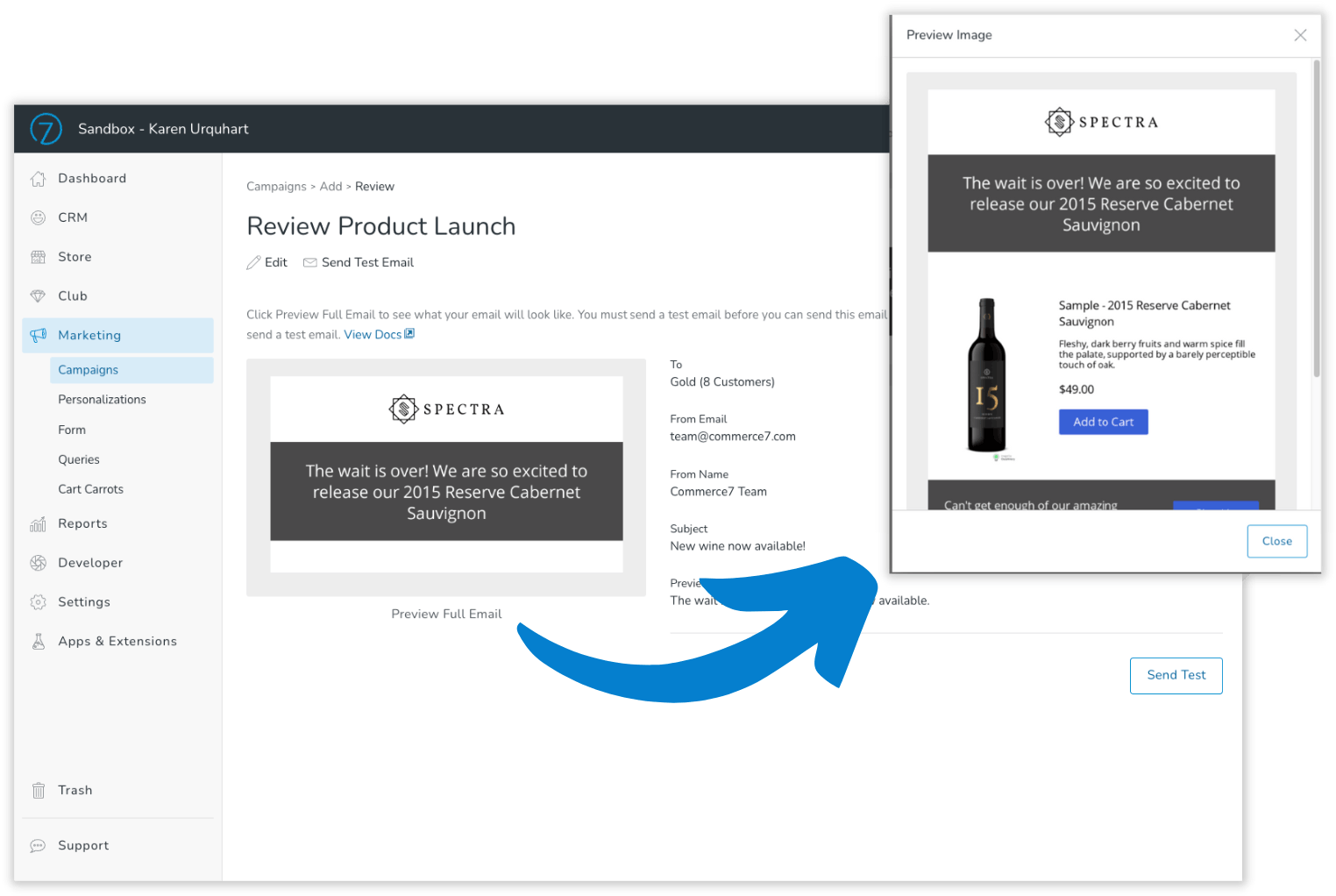 Before you can send out the email to your selected customers, you must send a test email. This step helps to ensure the email appears the same way in your inbox as it does in the preview, and gives you the opportunity to make any last minute changes. You can control who receives the test email, and once you send and review the test you can either schedule the email to go out to your customers at a specific time or send it immediately. 
That's all there is to it! Feel free to take a read through our Campaign documentation to get started and check out our Free Training Friday video for a more in depth overview of the Campaign tool on Commerce7.